MISSION STATEMENT
The needs of families are becoming more complex and the support grandparents can offer to their own family and to other families is significant. Through acting together grandparents are becoming strong advocates.
What we believe
CAMPAIGNS
Each year GPV/KCV conducts at least one campaign. Most campaigns undertaken span a number of years so in any given year there is always more than one campaign underway.
BECOME A MEMBER
GPV members enjoy the company of other grandparents bound by a commitment to improve the quality of life of all grandchildren
UN Convention on the Rights of the Child
Download the Convention here (273kB)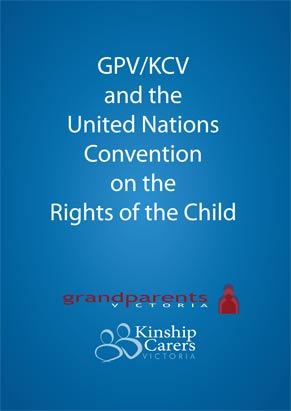 The Convention on the Rights of the Child is an international treaty which was adopted by the United Nations on 20 November 1989. It establishes global standards to ensure the protection, survival and development of all children, without discrimination.
Australia signed the Convention on 22 August 1990 and ratified it on 17 December 1990.
Grandparents Victoria Timeline
– 2001 Formed Grandparents Victoria
– 2002 Formed Grandparents Australia
– 2011 Formed Kinship Carers Victoria
– 2013 Formed Kinship International Network
Joined International Play Association